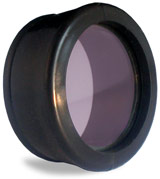 With Multi-Coat Lens
on standard housing view larger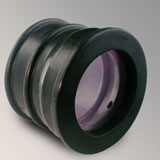 With Multi-Coat Lens on military-style housing view larger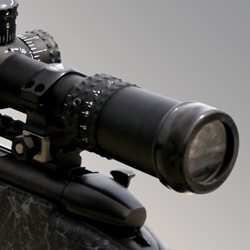 (All-Competition Booster with Standard Housing mounted on scope) view larger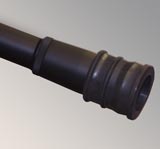 (All-Competition Booster with Military-Style Housing mounted on scope) view larger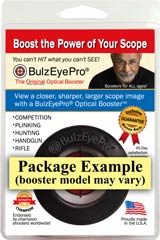 Don't be fooled by imitations! The original BulzEyePro® Optical Boosters™ are packaged as shown. If you order a BulzEyePro® All-Competition Booster with Universal Housing and it does not arrive with this packaging, please contact us. Any orders after April 1, 2008 will always arrive packaged as shown, otherwise it is a fake! There are no exceptions ever, for any reason.
Guarantee details at bottom of page
Competition shooters will experience the extreme scope image boost of the brightest, clearest, most sophisticated shooting lenses available to the public.
These satellite-quality dual-polymer lenses feature our proprietary coatings and manufacturing techniques, which offer the ultimate anti-mirage and zero parallax properties that are proven accurate beyond 3,000 miles.
The Universal Housing of this lens fits the following scopes:

Standard Housing
Fits all scopes with an eyepiece from 1.43 inches to 1.63 inches in diameter.
Military-Style Housing
Fits all scopes with an eyepiece from 1.60 inches in diameter and up.

Proprietary combination compound, injection molded housing
Withstands extreme temperatures and remains pliable
Slip on/off over scope eyepiece
The most accurate anti-mirage and zero parallax properties available
Sight image is larger, closer, brighter, and clearer
Reduces/eliminates eye fatigue
No scope modifications needed
Will not void scope warranty
110% satisfaction guaranteed, or your money back
Competition Series Boosters

Shipped with lens installed in our Universal Housing (fits all scopes)

Standard Universal Housing
Booster with
Standard Housing


Ultra-Brite Lens

3X = $105.00
3.5X = $115.00
4X = $125.00
Booster with
Standard Housing


Multi-Coat Lens

1.5X = $130.00
2X = $130.00
2.5X = $130.00
3X = $140.00
3.5X = $150.00
4X = $160.00

SPECIAL ORDER
(must submit recommendation request to BulzEyePro before ordering)
5X = $220.00
6x = $250
Military-Style Universal Housing
Booster with
Military-Style Housing


Multi-Coat Lens

2.5X = $130.00
3X = $140.00
3.5X = $150.00
4X = $160.00
To top of page
Our Money-Back Guarantee
If you are not satisfied with your BulzEyePro® Optical Booster™ for any reason, simply return the booster within 45 days of the purchase date for a full refund of the item purchase price. (Shipping charges for domestic and International shipments are non-refundable.)
Returns must be made to the merchant from which you originally purchased.
If your purchase was made through the BulzEyePro® website, please send your return to:
BulzEyePro
PO Box 52
Augusta, ME 04332-0052
IMPORTANT: Products returned for refund must be shipped within 45 days of purchase, with the original packaging (as shown in photo at left), or a refund will not be provided. BulzEyePro® is not responsible for return items lost during shipment. PayPal purchases will be refunded through PayPal.
Lifetime Warranty for Defects
Defective items returned for replacement do not need original packaging. Please ship to the address indicated above.