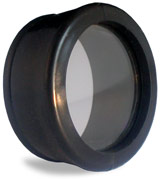 With All-Game Lens view larger
With Contrast Lens view larger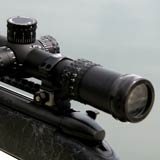 All-Game Hunting Booster
with 3500 All-Game lens
view larger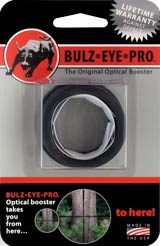 Don't be fooled by imitations! The original BulzEyePro Optical Boosters are packaged as shown. If you order a BulzEyePro All-Hunting Booster and it does not arrive with this packaging, it is a fake! There are no exceptions ever, for any reason. Please contact us immediately if the packaging you receive is different from that shown above.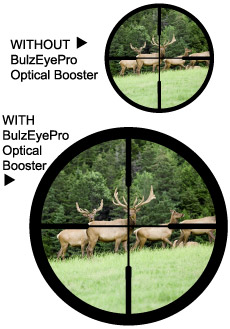 Whether you're hunting in an open-field, deep forest, low-light conditions, or in bright sunlight, with our All-Game Hunting Series Optical Booster™ your target will be closer, larger, clearer, and brighter without any change to your field of view.
Our All-Game Lenses are sold installed in the BulzEyeProOptical Booster™ Universal Housing, that fits all scopes.
Proprietary combination compound, injection molded housing
Withstands extreme temperatures and remains pliable
Extreme boost with unique anti-mirage and parallax properties
Premium multi-coat sandwiched polycarbonates
Greatly improves scope shooting safety
Does not affect scope warranty
Fits any scope - just stretch it on
110% satisfaction guaranteed, or your money back!
All-Game Hunting Series Optical Boosters
™
Shipped with lens installed in our Universal Housing (fits all scopes)

Booster with


All-Game Lens

Model 3000 (3.0X) = $87.00
Model 3500 (3.5X) = $96.00
Booster with


Contrast Lens

COMING SOON
To top of page
Our Money-Back Guarantee
If you are not satisfied with your BulzEyePro® Optical Booster™ for any reason, simply return the booster within 45 days of the purchase date for a full refund of the item purchase price. (Shipping charges for International shipments are non-refundable.)
Returns must be made to the merchant from which you originally purchased.
If your purchase was made through the BulzEyePro® website, please send your return to:
BulzEyePro
PO Box 52
Augusta, ME 04332-0052
IMPORTANT: Products returned for refund must be shipped within 45 days of purchase, with the original packaging (as shown in photo at left), or a refund will not be provided. BulzEyePro® is not responsible for return items lost during shipment. PayPal purchases will be refunded through PayPal.
Lifetime Warranty for Defects
Defective items returned for replacement do not need original packaging. Please ship to the address indicated above.