Ordering Information & Policies
for BulzEyePro

®

, the

ORIGINAL

Optical Booster
™
Online Orders

We accept payment for online orders through the secure shopping cart at PayPal. When you pay with PayPal, your credit card and bank numbers are never seen by the seller or merchant. Your financial information stays safe. You do not need a PayPal account to purchase from our website.
Mail Orders
To place an order by mail, send us your name, mailing address, and the product(s) you wish to purchase, along with a check or money order for the total dollar amount of the product(s) and the shipping cost (rates shown below) to:
BulzEyePro PO Box 52, Augusta, ME 04332-0052.
Shipments to Addresses in the United States
Shipments within the Continental United States, Alaska, and Hawaii:
We ship orders via United States Postal Service Priority Mail. The following shipping rates will apply, on a per recipient basis.
Quantity
Rate
Quantity
Rate
Quantity
Rate
1 item
$8.00
2 - 3 items
$12.00
4-5 items
$18.00
6-9 items
$22.00
10 items + over
$35.00
Shipments to other United States Territories:
We ship via United States Postal Service (USPS) Priority Mail to Guam, Marshall Islands, Northern Mariana Islands, Virgin Islands, American Samoa, Puerto Rico, Federated States of Micronesia, and Palau.
A per-item rate of $30.00 USD each will be charged in the shopping cart. For example, the shipping charge for an order of 2 items would be $60.00, and an order of 10 items would be $300.00.
Shipments to Other Countries
Worldwide shipping is available via United States Postal Service (USPS) Priority Mail. When your order is scheduled for shipment a tracking number will be sent to the email address you provide when your order. The following shipping rates (USD) will apply, on a per recipient basis. (Shipping costs vary. You will pay actual shipping and handling costs and any over charge will be refunded.)
Quantity
Rate
Quantity
Rate
Quantity
Rate
1-2 items
$45.00
3-4 items
$60.00
5-8 items
$90.00
9-12 items
$120.00
13 items + over
$160.00
For more accurate international shipping rates for quantities larger than one item, please call 207-626-0000 and leave a detailed message with your name, phone number, and the best time to call (Eastern standard time) and we will call you back with a more accurate shipping rate based upon the destination country and quantity ordered. Please check our worldwide distributor list. You may find a country nearer to you than the US and the shipping costs may be less. To request that an order be shipped by a different method you must contact us at 207-626-0000 to place your order by phone.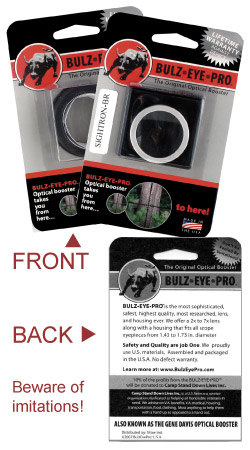 To top of page
Our Money-Back Guarantee
If you are not satisfied with your BulzEyePro® Optical Booster™ for any reason, simply return the booster within 45 days of the purchase date for a full refund of the item purchase price. (Shipping charges for International shipments are non-refundable.)
Returns must be made to the merchant from which you originally purchased.
If your purchase was made through the BulzEyePro® website, please send your return to:
BulzEyePro
PO Box 52
Augusta, ME 04332-0052
IMPORTANT: Products returned for refund must be shipped within 45 days of purchase, with the original packaging (as shown in photo at left), or a refund will not be provided. BulzEyePro® is not responsible for return items lost during shipment. PayPal purchases will be refunded through PayPal.
Lifetime Warranty for Defects
Defective items returned for replacement do not need original packaging. Please ship to the address indicated above.