BulzEyePro
®

Event Sponsorship Prize Winners
BulzEyePro®

- Supporting Shooting Club Events Worldwide
We congratulate the shooters on this page who won a BulzEyePro® Optical Booster™ at their local shooting event. If you would like to learn about BulzEyePro® sponsorship opportunities for your club's events, please contact us for more information.
John Marshall of Sydney Fly Outfitters & Guiding presents BulzEyePro®
certificates to Rob Austin (left photo) and Aksel Brevik (right photo)
(click on photos above to view larger)
Western Sydney Rifle Club Annual Spring Shoot, September 24, 2011
Rob Austin is an experienced shooter who competes in a variety of shooting disciplines. Rob was awarded the BulzeyePro® Optical Booster prize for first place in the Open Class Category at the above competition with a score of 600.51x from a possible 600.60x.
Aksel Brevik began shooting Rimfire Benchrest in June 2011 after a very long break from any form of shooting. Aksel was awarded the BulzeyePro® Optical Booster for Top Senior.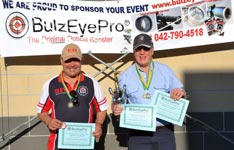 BulzEyePro® certificates were awarded to Bill Collaros (left) and Geoff Knight (right)
(click on photo above to view larger)
Western Sydney Rifle Club Annual Spring
Rimfire Benchrest Shoot, September 22, 2012
Bill Collaros from the Woollahra club won the Open event and was awarded a BulzEyepPro® Optical Booster prize.
Geoff Knight won the Hunter event and the Two-Gun event. Geoff was also the winning veteran of the day. Geoff was awarded two BulzEyePro® Optical Booster prizes.

Both Bill & Geoff are current members of the Australian team selected for the World championships.

Profits from BulzEyePro® products are donated to Camp Stand Down Lives, Inc., a U.S. veteran's service organization dedicated to giving veterans a "hand up", not a handout. Learn more about Camp Stand Down or make a donation.

BulzEyePro® Optical Booster™ Sales, Information, Dealer Inquiries
Contact Information
BULZEYEPRO.COM © Copyright 2008-2013 BulzEyePro® :: website by Barnstormer Design Group