Shooting with the BulzEyePro
®

Optical Booster

™


is like looking at your target through a microscope!

The FIRST and ONLY Optical Booster ™ with:
Diverse man-made prisms - Allows total elimination of parallax!
Multi-coated sandwich filtered lens - See and read mirage and eliminate target movement!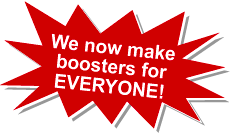 Find out which booster
is correct for you! »
We have been producing and improving our Optical Boosters
™

since WWII. Today we market more than two dozen lenses, along with over 20 different factory housings and three universal housings that will fit all full-size scopes. Whether you're young or old, we have a BulzEyePro

®

booster for you.

These Optical Boosters ™ will greatly enhance any scope and improve your ability to hit the bulls-eye. Our optics boosters are more effective and less expensive than an internal boost job and do not affect scope warranty. Our lenses and housings address and correct every known optical illusion experienced by scoped firearm shooters while improving safety, and increasing size and clarity of targeted image.

As we age, our shooting ability should not decline due to diminished eyesight (called presbyopia). Our company is dedicated to restoring sight loss while increasing size and clarity of picture for all shooters, and to improving firearm optics and their safety.
Hunters will enjoy quick, huge, clear, precise sight images with improved safety. Competitive shooters can add an enhanced ability to read mirage and adjust to zero parallax. Diabetics will also see all of this, along with a vast improvement in consistency and repeatability of shot.
Our Guarantee: You get all of our latest technology and will be 100% satisfied or your money back. If you are shooting against a BulzEyePro Optical Booster™, and you do not have one, you have a "tough row to hoe"!
— J.B.Shaw, Senior Design Engineer
WWII veteran, expert shooter, IR 50/50 bench rest competitor
KNOW YOUR TARGET, aim and shoot well, and above all else, stay safe.
Made from U.S.A. materials. and assembled and packaged in the US.
Lifetime No-Defect Warranty.